Gooood evening guys!
I don't think we can ever stop ranting about how amazing Bangalore is. With a new eatery opening almost every second day, it surely is one of the most happening cities in the country :D
On Day 15 of #20DayswithMYD, we're here with a list of new hang out spots in Bangalore for you to check out!
1.
Glocal Junction, Indiranagar
I have to say, I like the way they serve their drinks, it's pretty unique. The place is pretty huge and has a very chill vibe. A little on the pricey side but a good place to hang out and celebrate an occassion or so!
2.
Aubree, Sadashivnagar
Cute little bakery with some brilliant flavors to serve. They serve some lovely cakes, pastries, chocolates, cupcakes, and what not.. Basically, it's heaven for all you guys with a sweet tooth. Also, the plating is amazing and prices are reasonable.
3.
Tipsy Bull, Indiranagar
This s a bar exchange and the concept is similar to your stock exchange markets. The prices of all the drinks and cocktails keep changing every minute and it just depends on complete luck. Apart from this unique concept and great ambience, the place serves some amazing thin crust pizza. The place has crazy vibe for a fun evening with your buddies!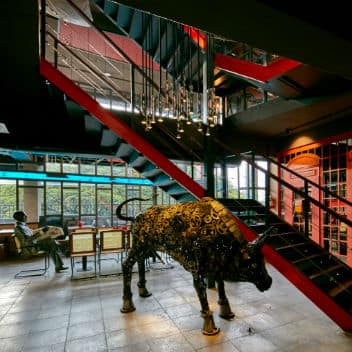 4.
Communiti, Brigade road
Love the ambience, yummy food and cocktails, reasonable pricing and great staff! what more could you ask for? Quantity of the food may be a little less but it's totally worth the rates. It's located in the most bustling streets of the city and it's pretty amazing for a chill evening.
5.
The Druid Garden, Sahakar Nagar
I am so glad that these kinda places are opening in the North part of Bangalore and I must say, this place is quite posh and surprisingly huge for where it's located. It's a great place to chill and have some amazing food and drinks! The staff is extremely friendly and the pricing is decent. You should check it out, if you haven't already!
ONLY 5 more posts to get done with #20DaysWithMYD, we're coming closer to end. :( We have a few more interesting things to share with you guys :D Hope you're as excited as we are :)
I Hope you liked this post! Do tell us if you've gone to any of these places and how you liked them.
See you tomorrow! x
Goodnight :)
Love,
MYD!
#20DaysWithMYD